Understanding Bid Bond Financing in Kenya
Bid bond financing in Kenya is a service offered by lending institutions such as banks and insurance companies. These institutions act on the behalf of a contractor,  as a guarantee to cover any losses to a project owner that may arise if a contractor fails to fulfil their contract.  Bid bonds are mandatory requirements for projects that have a bid-based selection process in both the private and public sectors in Kenya.
When a surety provider pays a claim, they are not taking any financial obligation away from the contractor. By advancing payment to the project owner, the financial institution ensures that a contractor's claims are paid on time thus giving the contractor the leeway to come up with the necessary funds. 
Each surety bond contract will include a compensation clause requiring a contractor to reimburse the lending institution for any claims paid out. In some instances, a surety may even offer a payment plan that allows a contractor to make repayments to the claim amount in instalments.
Qualifying for bid bond financing in Kenya certifies your credibility as a professionally stable institution, which allows other businesses to confidently engage in business with you.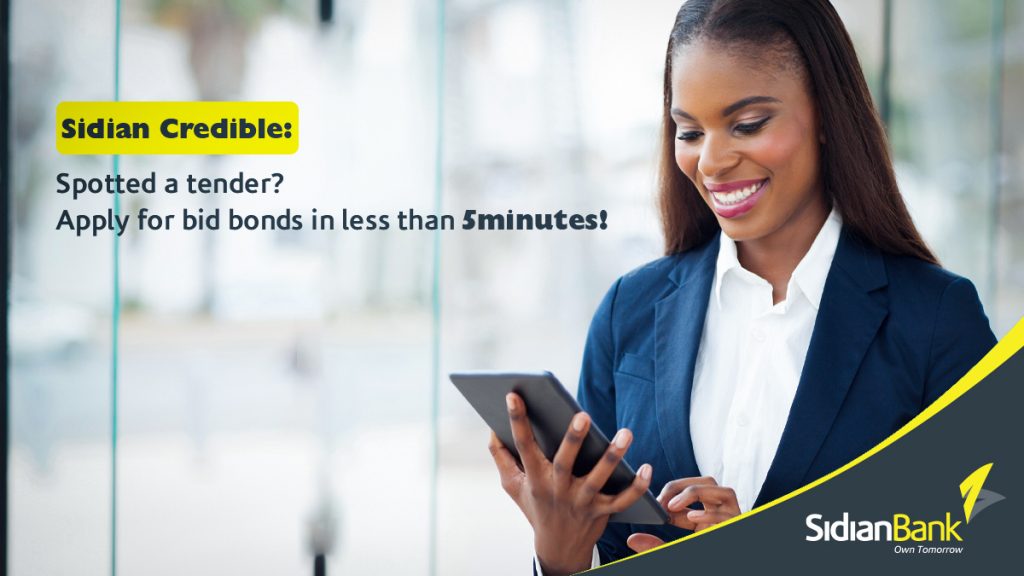 How Do Bid Bond Services Benefit Businesses and Contractors in Kenya?
Some contractors may hesitate to apply for bid bonds out of a lack of knowledge of the several benefits they can have for their business growth.
The benefits of bid bond financing extend to both contractors and businesses.
For the contractor, bid bonds award you the following benefits:
Increased opportunity as you are able to bid for tenders where bid bonds are mandatory.

Increase your credibility when applying for a tender.

Gives you access to professional advice from accountants, lawyers, engineers, and other relevant consultants.

Bid binds allow you to negotiate better contractual agreements.
At the same time, businesses benefit from working with bid bond financed contractors in the following ways:
Guarantee that the contractor will perform their work at the quoted price.

Assurance that the project will be completed as per contract.

Confidence that a project will not be interrupted by a lack of funds.
Visit Sidian Credible and apply for your Bid Bond Today. 
Pre-qualification Criteria for Bid Bond Services in Kenya
Before you begin applying for a bond, bid bond service providers will take you through a prequalifying process where they ask for company documents. The requirements for this may vary from one provider to another but generally, keep these documents on hand:
Include your company's most prominent employees together with their curriculum vitae.
Business Plan
A business plan which includes your profit and growth goals.
Details of Current and Completed projects
Some surety providers will be interested to understand your capacity to fulfil the project you are bidding for by looking at your past work.
Completion Plan
Surety providers may want a plan for how your company plans to fulfil a project in the event of death or disablement of its owner. This will likely be for longer term projects.
Proof of Line of Credit
It isn't uncommon for contractors to run into temporary deficits during projects so proof of a line of credit may be required to show that you can manage this occurrence.
References
Having references from clients whose projects you completed successfully is advisable as these will paint a positive picture about the dependability of your company.  
Information Required When you Apply for Bid Bond Financing in Kenya
Apart from the documents listed above, the lending institution will ask that you present certain information with your application.
This information includes:
Company name and certificate of incorporation

Copy of

KRA PIN/VAT

Copy of Memorandum and Articles of Association

Copy of Tax Compliance

A postal address

Contact number

Procuring entity's name – the employer

Procuring entity's address

The bid amount

Tender title or description

The validity period of the bid.
Visit Sidian Credible and apply for your Bid Bond Today. 
The Application Process to Get Bid Bond Financing in Kenya
Once you have all the required documents and information. The application process involves three simple steps, namely:
The filling of the bid bond application form.

The signing of indemnity and terms of conditions.

Issuance of the bid bond terms and conditions.
Why is Tender Security Required In Kenya When Getting Some Tenders?
In Kenya, tender security is normally required for all projects that are public jobs since it will be the government or taxpayer's money that will be used to fund the project.
Equally, in the private sector, most industries will require tender security for large projects that are put out to tender. 
Expect to need bid bonds if you are a service contractor, manufacturer, supplier/installers and retail/wholesaler. 
The most common industries which put projects outs to tender are:
Construction

Motor vehicle 

Freight and transportation

Mortgage or insurance industry
The upside is that you can expect the projects in these industries to be large undertakings which can present amazing growth opportunities for you as a contractor.
Furthermore, successfully completing work with such clients will often result in further appointments and the building of long term relationships.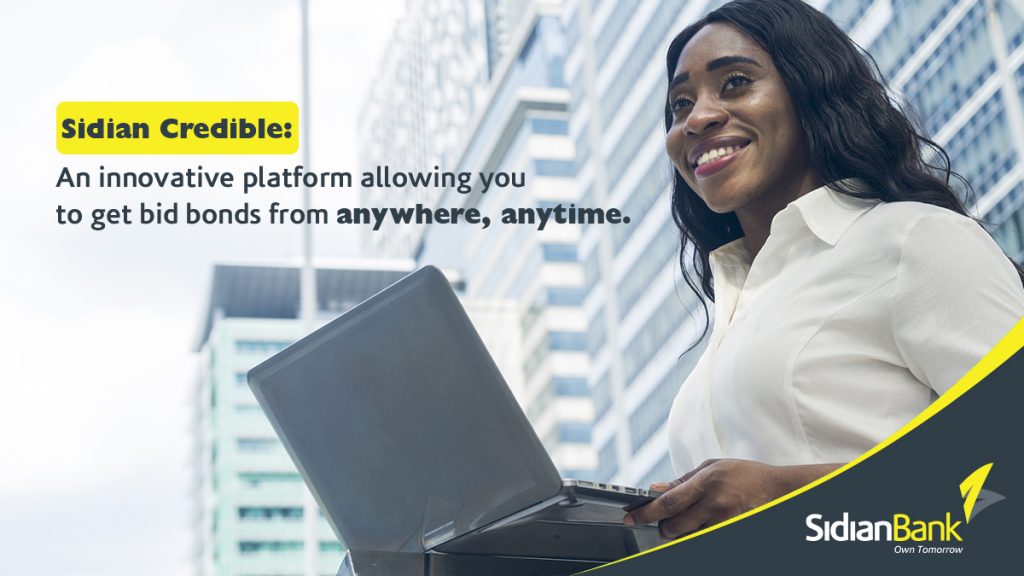 How to Choose a Platform for a Tender Bond in Kenya
As the business world continues to embrace technological business solutions, it is no surprise that web-based platforms for tender bond application are now a preferred option for most companies. 
During this period where physical contact is reduced, web-based tender bond platforms have allowed contractors in Kenya to access bid bond services remotely.
The best platforms offer convenience, efficiency and quick turn-around time.
Here is a list of what to look for when choosing a tender bond platform in Kenya.
Does the platform process bid bond applications timely?

Is the platform easy to navigate creating for a good user experience?

Do the bid bonds generated on the platform come with validation?

If you are not an existing customer of the lending institution, does the platform allow you on-board into the institution and continue with your application?

Does the platform guarantee security for the information you submit during the tender bond application.
Benefits of Acquiring Bid Bond Financing from Sidian Credible
Sidian Credible is one such web-based tender platform for bid bond financing in Kenya. It was launched in October 2020 with the goal to provide a safe, secure and time saving solution to businesses in Kenya.
Sidian Credible is a product of Sidian Bank which is a leading commercial bank in trade finance.
By providing tailor-made solutions in Trade Finance, the Bank has seen many of its clients unlock their business potential through taking advantage of the efficient bid bond services Sidian Credible provides.  
Apart from the expertise and experience, Sidian Credible offers its business clients, Sidian Credible bid bond financing comes with added benefits that make it stand out from its competitors.
With Sidian credible you:
Can process your bid bond in less than 5minutes.

Get unsecured bid bond limits of up to KES 30 million.

Are eligible to apply for bid bonds even if you are not an existing customer of Sidian Bank.

Can register for free on their web-based platform and receive verification on a real-time basis 24/7.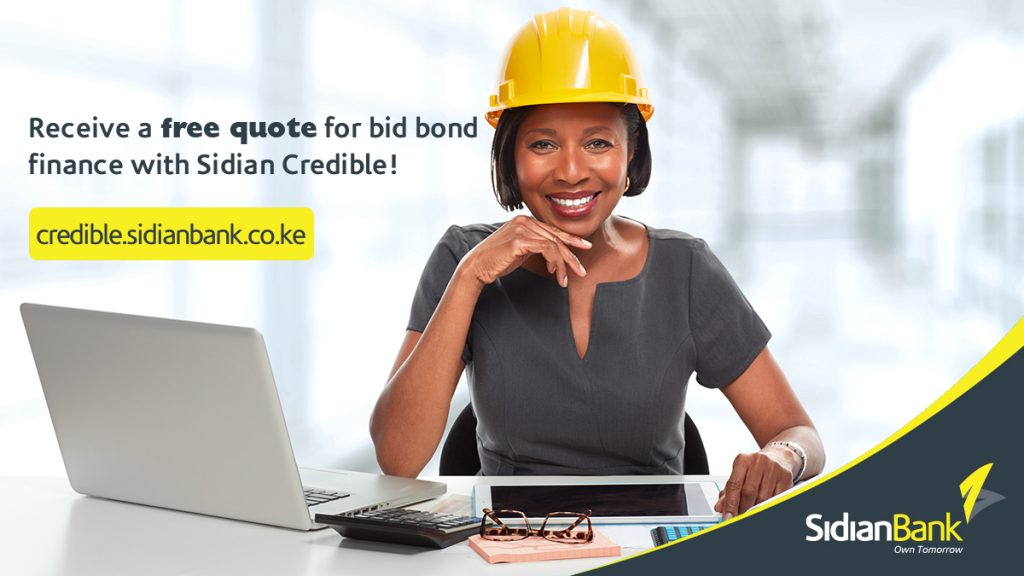 The team at Sidian Credible have considered the business needs of their Kenyan customers thus delivering a superior customer experience. Using their platform guarantees you:
A free quote for your bid bond.

Efficient turnaround time for bid bond application processing.

A bid bond from an institution that is recognised as a leader in entrepreneurial support.

A web-based platform means that your bid bonds are met in spite of limitations to physical contact.

Bid bonds are validated by a QR code embedded in the guarantee. 

Bid bonds that are auto-signed by Authorized Signatories of Sidian Bank.

Ability to apply for bids even if you are not currently a client of the institution through a self-service onboarding on the web-based platform.
Open up your business to new opportunities and unlock your potential by applying for bid bonds. Sidian Credible is ready to guide you through the convenient application process. Visit our website to apply for bid bond financing in Kenya today.