Bid bond services in Kenya are well regulated and the Public Procurement Regulatory Authority (PPRA) provides information on companies approved to provide bid bonds. 
Contractors can expect to submit bid bonds for all public projects and private sector work in the construction, transport, retails and wholesale industries amongst others.
In the construction industry, for example, there are four main types of bonds that fall under the umbrella term surety bonds. 
These bonds are there to protect project owners from contractors who may default on their contractual obligations.
The main types of surety bonds are:
Contractor license bonds

Bid bonds

Performance or contract bonds

Payment bonds
Contractors need to understand which type of bonds they require at the different stages of a project and which surety provider best suits their needs. 
This guide focuses on bid bonds and performance bonds.
What is the Difference Between a Bid Bond and a Performance Bond?
Bid bonds and performance bonds are the most common types of surety bonds in most industries, particularly for construction projects, as previously stated. 
The main difference between the two is the moment during a project's timeline when each is required. 
Bid bonds are purchased when a contractor is bidding on a tendered contract. They are required during the bidding process to assure a client that a contractor will adhere to the bid they are proposing or else risk legal action. 
Meanwhile, a performance bond is required after a bidder has been awarded a contract. It replaces the bid bond when the contractor proceeds to carry out the work.
The performance bond ensures that the contractor will perform the project work as stipulated in the contract award.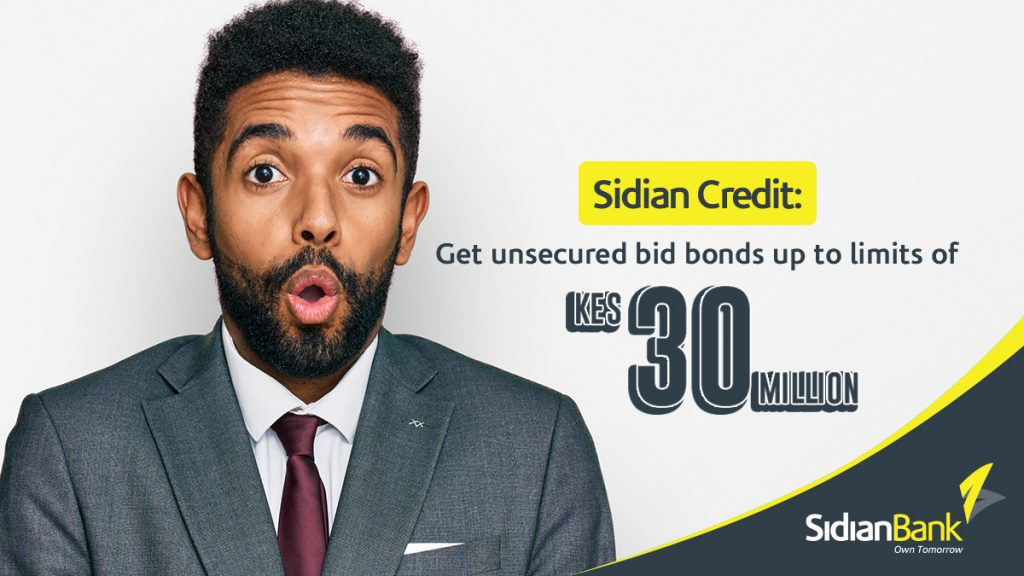 Facts About Bid Bond Services in Kenya and How They Work
Whether you are a bidder or the company putting out a tender, you should ensure that you are familiar with how bid bonds work so that you can take full advantage of their benefits.
When a surety provider pays a claim, it is not taking any financial obligation away from the contractor.
Each surety bond contract will include an indemnification clause requiring a contractor to reimburse the lending institution for any claims paid out. 
By advancing payment to the project owner, the financial institution ensures that a contractor's claims are paid on time thus giving the contractor the leeway to come up with the necessary funds. 
In some instances, a surety may even offer a payment plan that allows a contractor to make repayments to the claim amount in instalments.
That being said, the primary facts of bid bonds to be aware of are that:
Bid bonds protect project owners if a contractor defaults on their bid.

There is a total bond amount that a bidder is liable to pay if they breach their bid contract.

The institution that issued the bid bond will pay the project owner the difference between the initial contractor's bid and the next-lowest bidder for the project when their

lowest bidder

defaults.

Contractors can be sued by the financial institution that issued them the bid bond to recover their costs.

Whilst a bid bond shows the client that a contractor is viable, not every bidder will be awarded the contract, the contract will be awarded to the lowest bidder.
Where and How to Get a Tender Bond in Kenya
In Kenya, banks, insurance companies and reputable financial institutions are the most common issuers of bid bonds.
As stated earlier, when it comes to insurance companies, there is a list shared of the companies approved as tender security providers by the Public Procurement Regulatory Authority (PPRA). Consult this list annually to avoid working with unauthorised companies as this will affect the quality of your bid.
Banks will provide bid bonds according to terms and conditions stipulated in contract documents shared for the bid bond.
What is the Purpose of Tender Security in Kenya?
Tender security works as a deterrence to contractors from withdrawing their submitted bids for tenders, thus, giving the contracting firm guarantee that the bidder will sign the contract is awarded.
Bid bonds will protect a customer if the company they awarded the contract attempts to raise their bid after entering into a contract.
Furthermore, the process of bonding is extensive which in itself deterrers bogus companies from entering into the tendering process.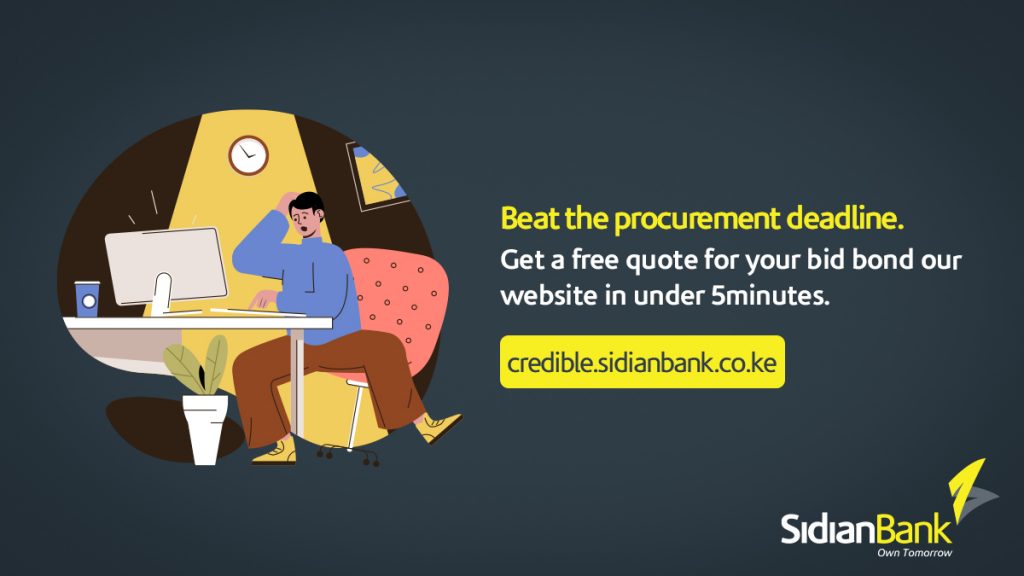 What is the Cost of a Bid Bond?
Though there may be slight differences from institution to institution, a bid bond is usually not more than 2% of the contract value. Large contracts will normally require about 1% whilst smaller deals will generally call for 3% bid bonds. The smaller projects will however come with fewer requirements.
As one would expect, clients who are not in good standing may incur higher rates as they present a greater risk to the surety provider.You can get a quote for a bid bond to know what the provider's terms are. Some institutions will offer the quotes for free.
Visit Sidian Credible and apply for your bid bond Today.
Pre-qualification Criteria for Bid Bond Services in Kenya
A contractor will need to undergo pre-qualification procedures before they acquire a bid bond. The requirements for this may vary from one provider to another. Below are the documents that most surety providers will ask for.
Include your company's most prominent employees together with their curriculum vitae.
Business Plan
A business plan which includes your profit and growth goals.
Details of Current and Completed projects
Some surety providers will be interested to understand your capacity to fulfil the project you are bidding for by looking at your past work.
Completion Plan
Surety providers may want a plan for how your company plans to fulfil a project in the event of death or disablement of its owner. This will likely be for longer-term projects.
Proof of Line of Credit
It isn't uncommon for contractors to run into temporary deficits during projects so proof of a line of credit may be required to show that you can manage this occurrence.
References
Having references from clients whose projects you completed successfully is advisable as these will paint a positive picture about the dependability of your company.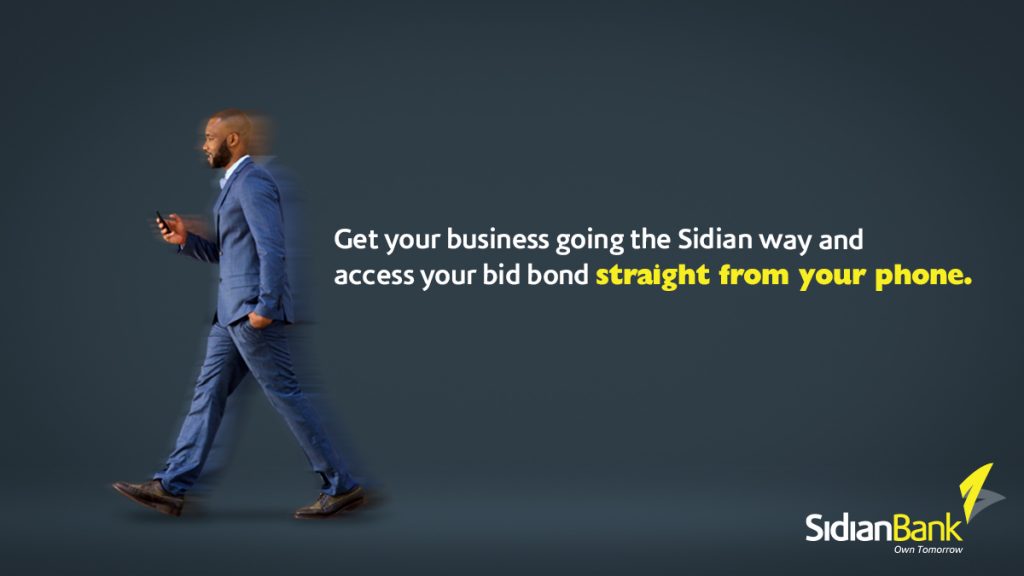 Sidian Credible Bid Bond Services in Kenya
Sidian Credible is a leading web-based tender platform for bid bond financing in Kenya. 
It was launched in October 2020 as a product of Sidian Credible is a product of Sidian Bank which is a leading commercial bank in trade finance.
The Bank has seen many of its clients unlock their business potential by taking advantage of the tailor-made trade financing services Sidian Credible provides.  
Not only does the bank offer a wealth of expertise and experience, but Sidian Credible bid bond services also come with added benefits that make them stand out from its competitors.
With Sidian credible you:
Can process your bid bond in less than 5minutes.

Get unsecured bid bond limits of up to KES 30 million.

Are eligible to apply for bid bonds even if you are not an existing customer of Sidian Bank.

Can register for free on their web-based platform and receive verification on a real-time basis 24/7.
The team at Sidian Credible have considered the business needs of their Kenyan customers thus delivering a superior customer experience. Using their platform guarantees you:
A free quote for your bid bond.

Efficient turnaround time for bid bond application processing.

A bid bond from an institution that is recognised as a leader in entrepreneurial support.

A web-based platform means that your bid bonds are met despite limitations to physical contact.

Bid bonds are validated by a QR code embedded in the guarantee. 

Bid bonds that are auto-signed by Authorized Signatories of Sidian Bank.

Ability to apply for bids even if you are not currently a client of the institution through a self-service onboarding on the web-based platform.
Do you have a tender you are targeting? Applying for bid bond services in Kenya is now easy so there is no reason not to go for it!